Richmond, VA, 2022

Mamiya 7II + 65mm f/4
Neopan 400 Acros II
When I saw the slatted siding on the house and overgrown grass, I immediately thought about spending time in my grandmother's backyard as a child and Charles Burnett's representation of South Central Los Angeles in "Killer of Sheep."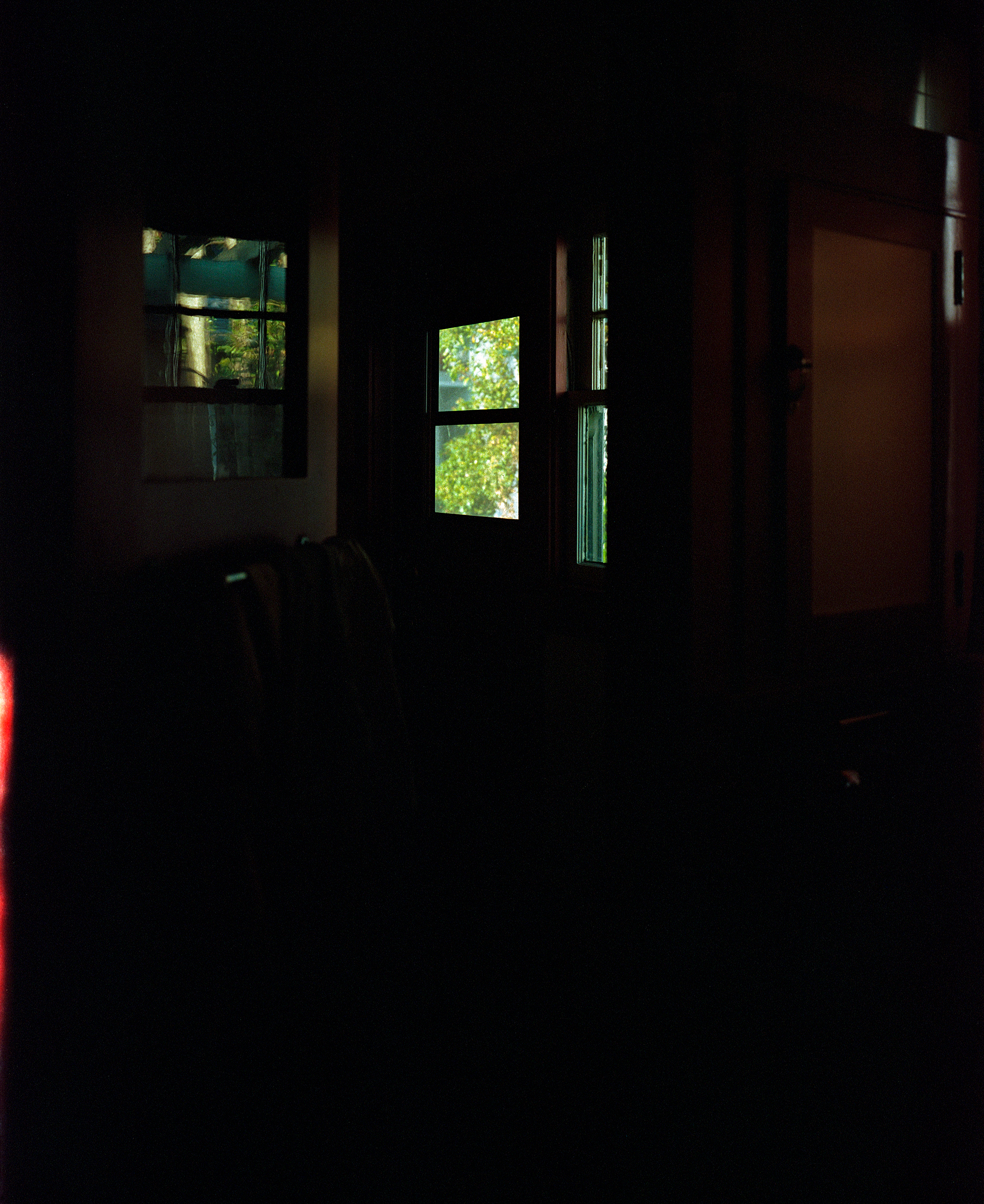 Kitchen Portals, 2022

Mamiya 7II + 65mm f/4
Kodak Portra 400
Dark And Gorgeous Accidents On Broadway, 2022

Mamiya 7II + 65mm f/4
Kodak Ektar 100
An evening stroll around the gay-borhood in Long Beach, CA. There's a string of LGBT friendly bars and eateries, and the crosswalks are painted in rainbow colors.

Without thinking or remembering, I grabbed my camera not knowing which film was inside. This was my first time shooting at night and it's one of my favorite street shots by far!
Long Beach, CA
2022

Sony A7III + 35mm f/1.4
The family got dressed up and spent New Year's Eve eating pizza and watching cringe Hollywood movies but we got a few laughs in. Our family tradition is to light off sparklers on the front porch and shimmy.
Silverwood Lake, CA
2021

Mamiya 7II + 65mm f/4
Neopan 100 Acros II

Last winter, we took an impulsive drive up to the mountains to sight-see. My spouse was "hard on-call" for a client (she's a midwife), yet we took a chance to get out of the house together. We drove up winding roads, through small towns, bought vinyl records, and even saw a bit of icy snow.
Two Mattresses,
2020

Mamiya 7II + 65mm f/4

As I walked the neighborhood, I began to notice the objects occupying the space between housing properties. Many of the between spaces are separated by cinderblock walls or wood fences, and wrought iron gates keep outsiders from intruding. I noticed that each between space offered a snapshot of the people within the housing property.

The neighborhood consists mostly of apartment buildings, while Craftsman houses are peppered on each block. Many between spaces are used for storage, hanging laundry or where city trashcans are kept. In one space, there was a small pit for barbecuing, while another featured outdoor chairs for a woman to catch a moment and smoke a cigarette.

I passed by an apartment building with big bay windows. A car that was parked in the driveway forced me off the sidewalk and into a grassy patch. Like a reflex, my right hand grabbed the bottom of the camera, and my legs started in reverse.

Two mattresses were taken from an interior space to a between space outdoors. Someone set them there and leaned them against the apartment's exterior. They were together, the mattresses, supported by each other and the building. The car in the driveway signaled that someone was probably home, someone with a new mattress.

Since 2019, there's been a spike in persons experiencing homelessness. These between spaces often become places of refuge and rest for the displaced. Take into account the way the virus is impacting much of the population economically, the housing crises will only worsen across Los Angeles County. I can't help but think about the term "shelter-in-place" when there are so many unsheltered individuals—the social conditions being many, the solutions being, what?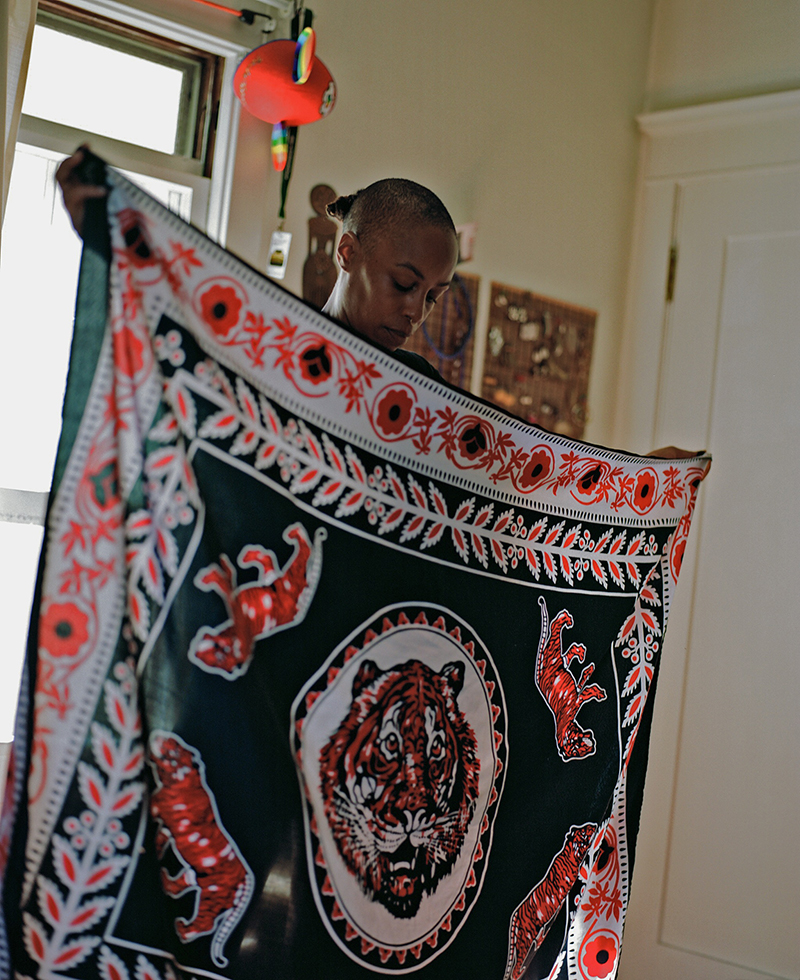 Honeymoon in the House,
2020
(Low quality scans)

Mamiya RZ67 + 110mm f/2.8

We escape to the backyard and stand on the dry grass. I peel back skin of a mango and sink my teeth in. "I worked hard on this grass," I say. When we decided to get married, I spent months reseeding the lawn, this shit looks horrible now.

The camera strap tightens around my neck when I try to catch mango juice running down my forearm, it drips on my camera. I spent the day taking pictures of everything to pass the time. Every image will be shaky because I'm too lazy to get the tripod. It's COVID, the only thing that matters is not having a meltdown.

I watch my wife beneath the pergola with a lighter and pre-roll. A couple weeks ago, she erected a space for a healer who camped in the yard. The space is an extension of the nonprofit we formalized in June. Once we secure a home property, Black Farm Studio House will integrate art, agriculture and midwifery care for black queer and non-binary communities. Before COVID, folks would come through and we'd screen movies, listen to records or talk for hours. Once this is over, the nonprofit will allow us to engage with the community at a larger scale.

My wife passes the joint again, slivers of smoke float off the tip. We're fortunate to have a yard for days that make you want to slap somebody. "You ready to go in?" she says. Time slowed as we edged toward the house. One of the children didn't fasten the screen, now flies are making themselves comfortable on the sunroom walls.

The culprit stands in the living room. My wife reprimands them and they have a spitfire rebuttal waiting, "And also, there's mushrooms growing out of—." The culprit gets cut off before redirecting from their lack of accountability. I hit a football route to the bedroom, "Nope, not today."

Air releases from the mattress as I straddle the corner. It's hot as hell, and I have cotton mouth. My wife continues the conversation from outside, but all I hear is the culprit arguing with a sibling in the kitchen. It sounds like an amateur rap battle with misplaced inflections and no punchline. I laugh because the mundane is absurdly beautiful. We're supposed to be on our honeymoon but we're caught in this loop.
© 2022 dana washington-queen
Best viewed on a desktop/iPad